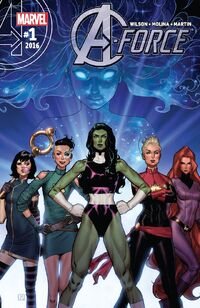 A-Force is published by Marvel Comics. Current price per issue is $3.99.
Publication Dates
Edit
Last Issue
Edit
A-Force #9: 14 Sep 2016
Current Issue
Edit
A-Force #10: 19 Oct 2016
Next Issue
Edit
none
Final issue is #10.
Characters
Edit
Main Characters
Edit
She-Hulk/Jennifer Walters
Spider-Woman/Jessica Drew
Captain Marvel/Carol Danvers
Storm/Ororo Munroe - Mutant who can control the weather.
Minor Characters
Edit
Other Characters/Places/Things
Edit
Recent Storylines
Edit
A-Force #10
Edit
This is the current issue, and therefore no story information will be posted about this issue. Please check your local comic shop for copies of this issue.
A-Force #9
Edit
Collections
Edit
Trade Paperbacks
Edit
A-Force, vol. 0: Warzones! - Collects vol. 1 #1-5. "In a secluded corner of Battleworld, the utopian island of Arcadia is fiercely protected by a team of Avengers the likes of which has only ever been glimpsed before. Fighting to protect the small sliver of their world that's left, the Amazing A-Force stands ready to take on all threats! When monsters appear on Arcadia, She-Hulk and A-Force set out to discover the source. But when they stumble upon a far-reaching conspiracy, She-Hulk is set up to violate Battleworld's most sacred rule. Now, A-Force must face the planet's protectors: The Thor Corps! A traitor in A-Force's ranks is revealed, and she won't rest until their island is razed. As Battleworld's horrors bear down on Arcadia, what sacrifices will the members of A-Force make to save their home — and each other?" - WorldCat - ISBN 9780785198611
A-Force, vol. 1: Hypertime - Collects vol. 2 #1-4 & vol. 1 #1, plus Avengers vol. 1 #83. "To combat the most fearsome threats from across the multiverse, Singularity summons She-Hulk, Captain Marvel, Dazzler, Medusa and Nico Minoru to her side! They're A-Force to be reckoned with, but they'll have their work cut out combating the villainous Antimatter! Can Earth's mightiest heroes defeat this new threat without destroying the mystery woman who claims to be their friend?" - WorldCat - ISBN 9780785196051
A-Force, vol. 2: Rage Against the Dying of the Light - Collects vol. 2 #5-10. "When a massive dragon attacks, She-Hulk, Captain Marvel, Medusa, Dazzler, Nico Minoru and Singularity spring into action! But this dragon is more than she seems and has much bigger plans — including turning one of the team's heaviest hitters against her allies! Will A-Force meet an early end at the hands of one of their own?" - WorldCat - ISBN 9780785196068
Leftover Useful Information
Edit
Creative Team
Edit
Writers: G. Willow Wilson & Marguerite Bennett. Artist: Jorge Molina. Covers: Jim Cheung.
Publishing History
Edit
Volume 1: #1-5, 2015 (Secret Wars tie-in)
Volume 2: #1-10, 2016
Future Publication Dates
Edit
Dates subject to change at the whims of the publisher or distributor. Please see the Diamond Shipping Lists for current information.
News & Features
Edit
Ad blocker interference detected!
Wikia is a free-to-use site that makes money from advertising. We have a modified experience for viewers using ad blockers

Wikia is not accessible if you've made further modifications. Remove the custom ad blocker rule(s) and the page will load as expected.