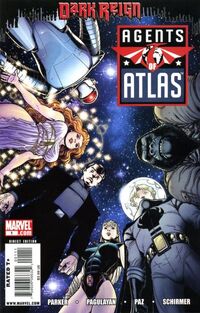 Atlas is published by Marvel Comics. Current price per issue is $3.99.
Publication Dates
Edit
Last Issue
Edit
Atlas #5: 29 Sep 2010
Current Issue
Edit
Secret Wars: Agents of Atlas #1: 21 Oct 2015
Next Issue
Edit
none
Series of limited series.
Characters
Edit
Main Characters
Edit
Minor Characters
Edit
Other Characters/Places/Things
Edit
Recent Storylines
Edit
Secret Wars: Agents of Atlas #1
Edit
This is the current issue, and therefore no story information will be posted about this issue. Please check your local comic shop for copies of this issue.
Atlas #5
Edit
Atlas #4
Edit
Past Storylines
Edit
Avengers vs. Atlas
Edit
X-Men vs. Agents of Atlas
Edit
Collections
Edit
Hardcovers
Edit
Agents of Atlas - Collects #1-6 of the original Agents of Atlas mini-series. "The spy. The spaceman. The goddess. The robot. The Gorilla. During the late 1950s, the U.S. government allowed FBI Special Agent Jimmy Woo to forge a team of unlikely heroes. Together, they stormed the fortress of a criminal mastermind to rescue President Eisenhower - but the group disbanded soon after. Now, almost 50 years later, an unauthorized S.H.I.E.L.D. mission goes down in flames - and from the ashes arise forces from the Golden Age of Marvel!" - WorldCat - ISBN 0785127127
Agents of Atlas: Dark Reign - Collects Agents of Atlas #1-5, plus Wolverine: Agent of Atlas & Giant-Size Marvel Adventures The Avengers. "When Federal enforcers under the hand of Norman Osborn burst into an armory under control of the Atlas Foundation, Jimmy Woo's Agents go head-to-head with the new powers that be. How it all goes down will make the playing field of the modern Marvel Universe more volatile than ever." - WorldCat - ISBN 0785138986
Agents of Atlas: Turf Wars - Collects Agents of Atlas #6-11. "Disturbing visions plucked from the malignant mind of Norman Osborn lead the intrepid Agents to the darkest depths of the Atlantic Ocean, where Namora must have words with her infamous cousin - the Sub-Mariner! Then, The Agents of Atlas find themselves racing around the world to rescue their leader! Jimmy Woo and M-11 find themselves under the talons of the most terrible power in China...the deadly- and beautiful- Jade Claw! Plus: the Atomic Age heroes meet the original gamma ray giant and learn the meaning of HULK SMASH!!!" - WorldCat - ISBN 0785142762
Agents of Atlas Vs. - Collects X-Men vs. Agents of Atlas #1-2 & Avengers vs. Atlas #1-4. "First, Venus has been kidnapped and intel suggests that there's only one machine that can help - Cerebra - which brings the Agents of Atlas head to head with no less than The X-Men! Then, spacetime is being selectively eroded by an unknown force. To stop the effect, the Agents seek the help of the Avengers - and find a much earlier version of the team than they expected. Next, the Thunderbolts see if they can take down the squad of '50s misfits without destroying America first." - WorldCat - ISBN 0785147721
Trade Paperbacks
Edit
Agents of Atlas Vs. - Collects X-Men vs. Agents of Atlas #1-2 & Avengers vs. Atlas #1-4. - WorldCat - ISBN 078514773X
Atlas: Return of the Three Dimensional Man - Collects Atlas #1-5, plus material from Incredible Hercules #138-141, Assault on New Olympus & The Heroic Age. "Someone has come to Atlas looking for answers to some very strange questions, and on his trail is a danger of a new level. Marvel's Rat Pack is back to solve the mystery behind The 3-D Man." - WorldCat - ISBN 0785146962
Leftover Useful Information
Edit
Creative Team
Edit
Writer: Jeff Parker. Artists: Carlo Pagulayan & Benton Jew.
Publishing History
Edit
First published as a six issue mini-series in 2006-2007. Ongoing series starts February 2009.
Future Publication Dates
Edit
Dates subject to change at the whims of the publisher or distributor. Please see the Diamond Shipping Lists for current information.
News & Features
Edit
Ad blocker interference detected!
Wikia is a free-to-use site that makes money from advertising. We have a modified experience for viewers using ad blockers

Wikia is not accessible if you've made further modifications. Remove the custom ad blocker rule(s) and the page will load as expected.