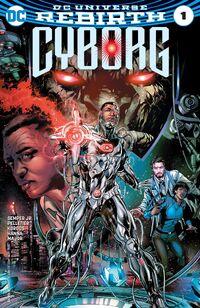 Cyborg is published by DC Comics. Current price per issue is $3.99.
Publication Dates
Edit
Last Issue
Edit
Cyborg #22: 02 May 2018
Current Issue
Edit
Cyborg #23: 06 Jun 2018
Next Issue
Edit
Cyborg #24: 18 Jul 2018
Published monthly.
Characters
Edit
Main Characters
Edit
Minor Characters
Edit
Other Characters/Places/Things
Edit
Recent Storylines
Edit
Cyborg #23
Edit
This is the current issue, and therefore no story information will be posted about this issue. Please check your local comic shop for copies of this issue.
Cyborg #22
Edit
Past Storylines
Edit
Collections
Edit
Trade Paperbacks
Edit
Cyborg, vol. 1: Unplugged - Collects vol. 1 #1-6. "The machine that gives Cyborg his powers is evolving! The only problem is that machine is his body—and he has no idea what's causing these changes!" - WorldCat - ISBN 9781401261191
Cyborg, vol. 2: Enemy of the State - Collects vol. 1 #7-12 & vol. 2 Rebirth. "Following the attack of the Techno-sapiens, the government implements greater regulation on cybernetics. Their first step is determining ownership of the tech implanted in Vic Stone, setting up a major conflict when it is decided that Vic is actually property of the government. And when he refuses to comply, a warrant is issued for his arrest—one answers by…the Justice League?" - WorldCat - ISBN 9781401265311
Cyborg, vol. 1: The Imitation of Life - Collects vol. 2 #1-5 & Rebirth. "Vic Stone is about to get a real-life 404 error when his father doesn't recognize him and cybernetic implants that saved his life seem to be stripping away the last bits of his humanity. Will Cyborg's human side win out? Or will he find out he's really just a machine who thinks he's a man?" - WorldCat - ISBN 9781401267926
Cyborg, vol. 2: Danger in Detroit - Collects vol. 2 #6-13. "With a fearsome high-tech terror cell threatening to invade the country, Cyborg participates in the creation of an experimental cybernetic female counterpart--code name She-Borg--whose abilities might exceed his own! But when the process ravages her memories, Cyborg must retrieve crucial national security secrets from her mind before it's too late. What's on the line? Control of the nation's most powerful nuclear weapons that could start a new world war!" - WorldCat - ISBN 9781401270872
Cyborg, vol. 3: Singularity - Collects vol. 2 #14-20. "Anomaly's horrific dream is realized when the O.T.A.C. virus changes nearly all flesh and blood on Earth into cold, hard steel. Now humanity's last hope, Cyborg, Beast Boy and a band of rebels led by Vic's mother, Elinore Stone, embark on a suicide mission to find the cure. Their first obstacle? The infected super-scientist Doc Magnus and his newly twisted robot army, the Metal Men!" - WorldCat - ISBN 9781401274559
Leftover Useful Information
Edit
Creative Team
Edit
Writer/Creator: Marv Wolfman. Artist: Tom Derenick. Covers: Will Conrad.
Publishing History
Edit
Volume 1: #1-12, 2015-2016
Volume 2: #1- , 2016-present
Future Publication Dates
Edit
Dates subject to change at the whims of the publisher or distributor. Please see the Diamond Shipping Lists for current information.
Cyborg #24: 18 Jul 2018
Cyborg #25: 01 Aug 2018
News & Features
Edit