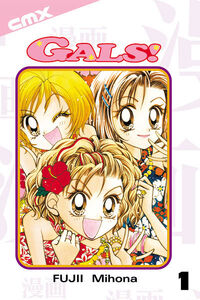 Gals! is published by DC Comics under the CMX imprint. Current price per volume is $9.99.
Publication Dates
Edit
Last Issue
Edit
Gals! Vol. 9: 21 Feb 2007
Current Issue
Edit
Gals! Vol. 10: 25 Apr 2007
Next Issue
Edit
none
Tankōbon manga collection. Published quarterly. Scheduled for ten volumes.
Characters
Edit
Main Characters
Edit
Yamato Kotobuki (寿大和) - Ran's older brother.
Miyu Yamazaki (山咲美由) - One of Ran's classmates and closest friends.
Aya Hoshino (星野綾) - A top student.
Sayo Kotobuki (寿沙夜) - Ran's younger sister.
Taizo Kotobuki - Ran's father. Chief of detectives.
Kiyoka Kotobuki - Ran's mother. Police officer.
Mami Honda (本多マミ) - Ran's closest friends.
Harue Kudou (工藤ハルエ) - Mami's best friend.
Tatsuki Kuroi (黒井直樹)/"Machida Black"/"Monkey Boy" - Ran's boyfriend.
Minor Characters
Edit
Naoki Kuroi - Tatsuki's little brother.
Masato Iwai - Sayo's partner/boyfriend since junior high.
Other Characters/Places/Things
Edit
Recent Storylines
Edit
Gals! Vol. 10
Edit
This is the current issue, and therefore no story information will be posted about this issue. Please check your local comic shop for copies of this issue.
Gals! Vol. 9
Edit
Gals! Vol. 8
Edit
Gals! Vol. 7
Edit
Gals! Vol. 6
Edit
Gals! Vol. 5
Edit
Gals! Vol. 4
Edit
Gals! Vol. 3
Edit
Gals! Vol. 2
Edit
Gals! Vol. 1
Edit
Leftover Useful Information
Edit
Creative Team
Edit
Writer/Artist/Creator/Covers: FUJII Mihona (藤井みほな).
Publishing History
Edit
Originally published in Japan in the anthology Ribon from 1999–2002.
First English language version published starting in 2006.
Order Codes
Edit
These are the order codes and prices as provided by Diamond Distribution. Your local comic shop should be able to order these for you.
Future Publication Dates
Edit
Dates subject to change at the whims of the publisher or distributor. Please see the Diamond Shipping Lists for current information.
Ad blocker interference detected!
Wikia is a free-to-use site that makes money from advertising. We have a modified experience for viewers using ad blockers

Wikia is not accessible if you've made further modifications. Remove the custom ad blocker rule(s) and the page will load as expected.