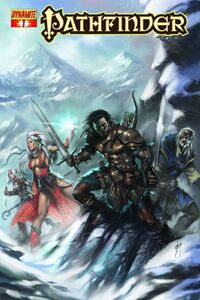 Pathfinder is published by Dynamite Entertainment. Price per issue is $3.99.
Publication Dates
Edit
Last Issue
Edit
Pathfinder: Runescars #2: 28 Jun 2017
Current Issues
Edit
Pathfinder: Runescars #3: 26 Jul 2017
Next Issue
Edit
Pathfinder: Runescars #4: 23 Aug 2017
Irregular series of mini-series.
Characters
Edit
Main Characters
Edit
Valeros - Human (Chelaxian) Fighter
Seoni - Human (Varisian) Sorceress
Merisiel - Elven Rogue
Ezren - Human (Taldan) Wizard
Kyra - Human (Keleshite) Cleric of Sarenrae
Minor Characters
Edit
Other Characters/Places/Things
Edit
Recent Storylines
Edit
Pathfinder: Runescars #3
Edit
This is the current issue, and therefore no story information will be posted about this issue. Please check your local comic shop for copies of this issue.
Pathfinder: Runescars #2
Edit
Pathfinder: Runescars #1
Edit
Past Storylines
Edit
Worldscape
Edit
Hollow Mountain
Edit
City of Secrets
Edit
Collections
Edit
Hardcovers
Edit
Pathfinder, vol. 1: Dark Waters Rising - Collects #1-6. "The warrior Valeros can rely on his sword arm and his friends —mysterious sorceress Seoni, quick-witted elven rogue Merisiel, powerful wizard Ezren, well-traveled dwarven ranger Harsk, and courageous cleric Kyra — but nothing can prepare him for the dangers that lurk ahead. The scattered goblin tribes of Varisia are unifying in ways no one has ever seen before. At the heart of this strange evolution is an ancient force of evil looking to establish itself anew in the world of Golarion!" - WorldCat - ISBN 1606903926
Pathfinder, vol. 2: Of Tooth and Claw - Collects #7-12? "When Valeros and his companions are tasked with tracking down a mysterious beast scarring the locals of Sandpoint, they find far more than they bargained for! A seemingly simple monster hunt becomes a twisted tale of danger and betrayal as the Cult of Lamashtu exacts its revenge on our iconic heroes." - WorldCat - ISBN 1606904949
Pathfinder, vol. 3: City of Secrets - Collects City of Secrets #1-6. "The Pathfinder heroes head to the city of Magnimar, and danger isn't far behind. As the wizard Ezren seeks an audience with the Pathfinder Society, his adventuring allies explore the city's ancient magic, well-hidden secrets, and deep political divides. The dangers and opportunities of the big city could bring the adventurers closer together - or tear them apart!" - WorldCat - ISBN 9781606906026
Pathfinder, vol. 4: Origins - Collects Origins #1-6. "To prove themselves to the Pathfinder Society, Valeros the fighter and his companions must recount tales of their early exploits in a world beset by magic and evil." - WorldCat - ISBN 9781606907849
Pathfinder, vol. 5: Hollow Mountain - Collects Hollow Mountain #1-6. "Carved in the immense visage of Alaznist, Runelord of Wrath, the Hollow Mountain is home to a honeycomb labyrinth of trap-laden chambers and corridors. The Pathfinder agents must explore the ruins in search of a long-lost mystical artifact... but they're not alone." - WorldCat - ISBN 9781524100803
Leftover Useful Information
Edit
Creative Team
Edit
Writer: Jim Zubkavich. Artist: Andrew Huerta.
Based on the Paizo Publishing role-playing game and novels.
Publishing History
Edit
First published in 2012.
Future Publication Dates
Edit
Dates subject to change at the whims of the publisher or distributor. Please see the Diamond Shipping Lists for current information.
Pathfinder: Runescars #4: 23 Aug 2017
Pathfinder: Runescars #5: 27 Sep 2017
News & Features
Edit
Ad blocker interference detected!
Wikia is a free-to-use site that makes money from advertising. We have a modified experience for viewers using ad blockers

Wikia is not accessible if you've made further modifications. Remove the custom ad blocker rule(s) and the page will load as expected.