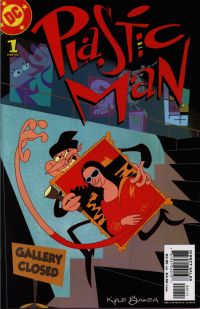 Plastic Man is published by DC Comics. Current price per issue is $2.99.
Publication Dates
Edit
Last Issue
Edit
Plastic Man #19: 30 Nov 2005
Current Issue
Edit
Plastic Man #20: 25 Jan 2006
Next Issue
Edit
none
Bi-monthly on-going series. Final issue is #20.
Characters
Edit
Main Characters
Edit
Minor Characters
Edit
Other Characters/Places/Things
Edit
Recent Storylines
Edit
Plastic Man #20
Edit
Plastic Man #19
Edit
Past Storylines
Edit
Collections
Edit
Plastic Man: On the Lam - Collects #1-6. "Watch as Plas - with the help of sidekick Woozy Winks - gets into all sorts of trouble, as his not-so-innocent past as criminal 'Eel' O'Brian comes back to haunt him. Now our hero has been framed for a crime he didn't commit, and he's forced to go 'on the lam!' Can our hero get to the truth in time before someone near and dear to him gets hurt?" - WorldCat - ISBN 1401203434
Plastic Man: Rubber Bandits - Collects #8-11, 13-14. "Our pliable hero wrecks continuity as we know it, investigates a vampire, gets in trouble with homeland security, battles a menacing mouse, and stops one of the worst crimes ever: illegal music downloading." - WorldCat - ISBN 1401207294
Leftover Useful Information
Edit
Creative Team
Edit
Written and drawn by Kyle Baker.
Publishing History
Edit
Order Codes
Edit
These are the order codes and prices as provided by Diamond Distribution. Your local comic shop should be able to order these for you.
JAN05 0314 PLASTIC MAN #15 $2.99
MAR05 0417 PLASTIC MAN #16 $2.50
MAY05 0246 PLASTIC MAN #17 $2.99
JUL05 0243 PLASTIC MAN #18 $2.99
SEP05 0255 PLASTIC MAN #19 $2.99
Collections
Edit
SEP05 0677 PLASTIC MAN ON THE LAM TP (JUL040639) $14.95
OCT05 0265 PLASTIC MAN VOL 2 RUBBER BANDITS TP $14.99
SEP05 0791 PLASTIC MAN ARCHIVES VOL 1 HC (STAR08602) $49.95
SEP05 0792 PLASTIC MAN ARCHIVES VOL 2 HC (STAR12246) $49.95
SEP05 0793 PLASTIC MAN ARCHIVES VOL 3 HC (STAR14615) $49.95
SEP05 0794 PLASTIC MAN ARCHIVES VOL 4 HC (STAR17536) $49.95
SEP05 0795 PLASTIC MAN ARCHIVES VOL 5 HC (STAR19431) $49.95
SEP05 0796 PLASTIC MAN ARCHIVES VOL 6 HC (JUL040641) $49.95
AUG05 0230 PLASTIC MAN ARCHIVES VOL 7 HC $49.99
SEP05 0676 PLASTIC MAN LOST ANNUAL #1 (STAR20452) $6.95
Future Publication Dates
Edit
Dates subject to change at the whims of the publisher or distributor. Please see the Diamond Shipping Lists for current information.
News & Features
Edit
Ad blocker interference detected!
Wikia is a free-to-use site that makes money from advertising. We have a modified experience for viewers using ad blockers

Wikia is not accessible if you've made further modifications. Remove the custom ad blocker rule(s) and the page will load as expected.