Secret Six
Talk

0
1,102pages on
this wiki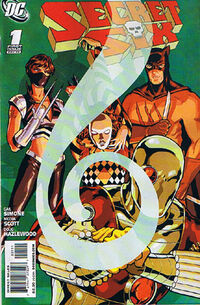 Secret Six is published by DC Comics. Cover price is $2.99.
Publication Dates
Edit
Last Issue
Edit
Secret Six #35: 06 Jul 2011
Current Issue
Edit
Secret Six #36: 03 Aug 2011
Next Issue
Edit
none
Monthly series. Final issue is #36.
Characters
Edit
Main Characters
Edit
Minor Characters
Edit
Other Characters/Places/Things
Edit
Recent Storylines
Edit
Secret Six #36
Edit
This is the current issue, and therefore no story information will be posted about this issue. Please check your local comic shop for copies of this issue.
Secret Six #35
Edit
Past Storylines
Edit
Six Degrees of Devastation
Edit
Mini-series #1-6.
Collections
Edit
Trade Paperbacks
Edit
Secret Six: Six Degrees of Devastation - Collects the six-issue mini-series. "A mysterious team of misfits that walks the line between good and evil, taking on the dirtiest, craziest tasks in the DCU! Their first mission — to rescue one of their own from a North Korean prison before he's executed — leads them to the realization that someone is trying to have them all killed. But who has it in for them?" - WorldCat - ISBN 140121231X
Secret Six: Unhinged - Collects #1-7. "A contract has been put out on the lives of the Six, but the sly team has some tricks — and a whole lot of bullets — up their own sleeves." - WorldCat - ISBN 1401223273
Secret Six: Depths - Collects #8-14. "With Batman's cowl up for grabs, two of The Secret Six think they should be the new Dark Knight. And a mission on Devil's Island draws the attention of Wonder Woman." - WorldCat - ISBN 1401225993
Secret Six: Danse Macabre - Collects #15-18, plus Suicide Squad #67. "Amanda Waller and her Suicide Squad have captured Deadshot to force him back in their ranks." - WorldCat - ISBN 1401229042
Secret Six: Cat's in the Cradle - Collects #19-24. "Thomas Blake – a.k.a. Catman – heads to Africa to find the three men who kidnapped his long lost son, while Catman leaves a trail of destruction in his wake that threatens to destroy the Secret Six once and for all." - WorldCat - ISBN 1401230210
Secret Six: The Reptile Brain - Collects #25-29 & Action Comics #897. "Catman's past crawls back to haunt him when three men kidnap his long-lost son. His Secret Six teammates come to his aid, leaving a bloody trail of vengeance behind them. Will they be too late to save the only person Catman cares about?" - WorldCat - ISBN 1401231667
Secret Six: The Darkest House - Collects #30-36 & Doom Patrol #19. "A member of the team is determined to bring back a loved one from the Gates of Hell, and Bane must face his inner demons!" - WorldCat - ISBN 1401233627
Leftover Useful Information
Edit
Creative Team
Edit
Writer: Gail Simone. Artists: Nicola Scott & Doug Hazlewood. Covers: Cliff Chiang
Publishing History
Edit
The original Secret Six series was published for seven issues from 1968-1969.
A Secret Six mini-series was published in 2006.
Ongoing Secret Six series started in 2008.
Order Codes
Edit
These are the order codes and prices as provided by Diamond Distribution. Your local comic shop should be able to order these for you.
ISSUE ITEM CODE FOC DATE SCHEDULED IN-STORE DATE
Future Publication Dates
Edit
Dates subject to change at the whims of the publisher or distributor. Please see the Diamond Shipping Lists for current information.
News & Features
Edit