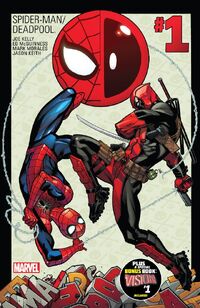 Spider-Man/Deadpool is published by Marvel Comics. Current price per issue is $3.99.
Publication Dates
Edit
Last Issues
Edit
Spider-Man/Deadpool #34: 13 Jun 2018
Current Issue
Edit
Spider-Man/Deadpool #35: 04 Jul 2018
Next Issue
Edit
Spider-Man/Deadpool #36: 18 Jul 2018
Monthly or twice-monthly series.
Characters
Edit
Main Characters
Edit
Minor Characters
Edit
Other Characters/Places/Things
Edit
Recent Storylines
Edit
Spider-Man/Deadpool #35
Edit
This is the current issue, and therefore no story information will be posted about this issue. Please check your local comic shop for copies of this issue.
Spider-Man/Deadpool #34
Edit
Past Storylines
Edit
Collections
Edit
Trade Paperbacks
Edit
Spider-Man/Deadpool, vol. 1: Isn't It Bromantic - Collects #1-5 & 8. "When the Webbed Wonder and the Merc with a Mouth find themselves in a tight spot, hijinks and hilarity ensue! Spidey isn't looking for new friends in his neighborhood, but Deadpool's going all out in the name of bromance. Will this turn out to be a buddy book, or will the identity of Deadpool's next target — he's just a guy named Peter Parker — ruin everything?!" - WorldCat - ISBN 9780785197867
Spider-Man/Deadpool, vol. 2: Side Pieces - Collects #6-7, 11-12 & 1.MU. "Monsters, magic, merriment, movie-making and more!" - WorldCat - ISBN 9780785199922
Spider-Man/Deadpool, vol. 3: Itsy Bitsy - Collects #9-10, 13-14 & 17-18. "Take a little bit of Spidey and a touch of Deadpool, take away the Y chromosomes, blend it all together and what do you get? Peter Parker and Wade Wilson's worst nightmare -the murderous, mixed-up miss named Itsy Bitsy!" - WorldCat - ISBN 9780785197874
Spider-Man/Deadpool, vol. 4: Serious Business - Collects #19-22. "When the villainous Arcade decides to build a second, even deadlier Murderworld in Madripoor, he kidnaps Spider-Man and forces him to be the park's first guest!" - WorldCat - ISBN 9781302908065
Spider-Man/Deadpool, vol. 5: Arms Race - Collects #23-28. "Arcade's Murderworld expansion operation continues, and Spider-Man's the first guest at his second, deadlier theme park! It's up to Deadpool to save Spidey from Arcade's clutches, but the question remains…will he want to?" - WorldCat - ISBN 9781302910471
Spider-Man/Deadpool, vol. 6: WLMD - Collects #29-33. "Spidey and Deadpool face a team-up in two eras! In the present, they're plagued by DP doppelgangers — while in the future, Old Men Parker and Wilson have troubles of their own! These two timelines are about to collide, courtesy of Clonepool! Who is he, what is he, and where did he come from? And do two grumpy old heroes stand a chance of righting wrongs committed by their younger selves when they, too, are faced with dozens of Doppel-pools?" - WorldCat - ISBN 9781302910488 - (forthcoming, July 2018)
Hardcovers
Edit
Leftover Useful Information
Edit
Creative Team
Edit
Writer: Joe Kelly. Artist/Covers: Ed McGuinness.
Publishing History
Edit
Volume 1: #1- , 2016-present
Future Publication Dates
Edit
Dates subject to change at the whims of the publisher or distributor. Please see the Diamond Shipping Lists for current information.
Spider-Man/Deadpool #36: 18 Jul 2018
Spider-Man/Deadpool #37: 08 Aug 2018
Spider-Man/Deadpool #38: 05 Sep 2018
Spider-Man/Deadpool #39: 26 Sep 2018
News & Features
Edit