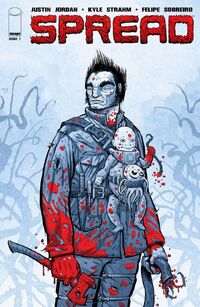 Spread is published by Image Comics. Current price per issue is $3.50.
Publication Dates
Edit
Last Issue
Edit
Spread #24: 20 Dec 2017
Current Issue
Edit
Spread #25: 07 Mar 2018
Next Issue
Edit
none
Final issue was #25.
Characters
Edit
Main Characters
Edit
Minor Characters
Edit
Other Characters/Places/Things
Edit
Recent Storylines
Edit
Spread #25
Edit
This is the current issue, and therefore no story information will be posted about this issue. Please check your local comic shop for copies of this issue.
Spread #24
Edit
Collections
Edit
Trade Paperbacks
Edit
Spread, vol. 1: No Hope - Collects #1-6. "Ten years ago, we dug too deep and unleashed something we couldn't control. Something that twisted and warped every living thing in its path. Something that remade the world in its own image. The Spread. One man has found a child who could save the world, but he has to fight monsters, raiders, cannibals, religious fanatics, and one cranky baby to do it." - WorldCat - ISBN 1632152568
Spread, vol. 2: The Children's Crusade - Collects #7-11. "Jack and Molly struggle to save No's life as enemies new and old come at them from all sides." - WorldCat - ISBN 9781632155627
Spread, vol. 3: No Safe Place - Collects #12-17. "No and company have found their way to Sanctuary, the last piece of civilization in the Quarantine Zone. But they're going to find that even here, there's no place the Spread hasn't touched as they find new enemies and old allies." - WorldCat - ISBN 9781632159076
Spread, vol. 4: Outside - Collects #18-21. "Ravello, gifted with terrible new abilities by the Spread, has returned to, organize the raiders of the Quarantine Zone into something the world has never seen." - WorldCat - ISBN 9781534301849
Spread, vol. 5: Damocles - Collects #22-25. "No has taken Hope as far he can. Now, under threat from both Ravello's army, the Spread itself, and the outside world, Hope and No will either save the world or destroy it." - WorldCat - ISBN 9781534305052
"Ten years ago, we dug too deep. We unleashed something ancient that couldn't be controlled. Something that couldn't be stopped, twisting everything it touched into more of itself. The Spread. Humanity was nearly destroyed before we found a way to slow the Spread to a crawl. Now, deep inside the quarantined zone, one man has found the key to stopping it forever: a baby girl. And if he can save her, he might save the world."
Leftover Useful Information
Edit
Creative Team
Edit
Writers/Creator: Justin Jordan. Artist/Creator/Covers: Kyle Strahm.
Publishing History
Edit
First published in 2014.
Future Publication Dates
Edit
Dates subject to change at the whims of the publisher or distributor. Please see the Diamond Shipping Lists for current information.
News & Features
Edit