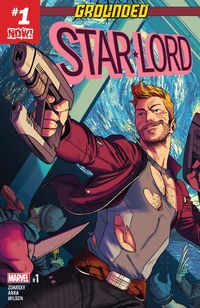 Star-Lord is published by Marvel Comics. Current price per issue is $3.99.
Publication Dates
Edit
Last Issue
Edit
Star-Lord #6: 19 Apr 2017
Current Issue
Edit
Star-Lord Annual #1: 24 May 2017
Next Issue
Edit
none
Final issue was #6.
Characters
Edit
Main Characters
Edit
Star-Lord/Peter Quill - Son of a human mother and alien father.
Minor Characters
Edit
Other Characters/Places/Things
Edit
Recent Storylines
Edit
Star-Lord Annual #1
Edit
This is the current issue, and therefore no story information will be posted about this issue. Please check your local comic shop for copies of this issue.
Star-Lord #6
Edit
Previous Storylines
Edit
Star-Lord and Kitty Pryde
Edit
The Legendary Star-Lord
Edit
Collections
Edit
Trade Paperbacks
Edit
The Legendary Star-Lord, vol. 1: Face It, I Rule - Collects Legendary #1-5. "Peter Quill battles the Badoon, saves an orphanage and still finds time to flirt with the X-Men's Kitty Pryde — all in a day's work for the legendary Star-Lord! But when Peter is captured by a bounty hunter with a strange connection to his past, can the two make amends before he's fed to a giant alien? A Badoon death sentence isn't exactly Peter's idea of a good time — luckily, he's got an ace up his sleeve. But Star-Lord soon encounters the all-powerful Titan responsible for so much mayhem in his life: Thanos! It's the battle to end all battles, but can Star-Lord possibly get out alive?! If he does, the vicious Mister Knife and the ancient cosmic artifact known as the Black Vortex are waiting." - WorldCat - ISBN 9780785191599
The Legendary Star-Lord, vol. 2: Rise of Black Vortex - Collects Legendary #6-12. "Star-Lord comes face-to-face with Mr. Knife - and you won't believe who's behind that snazzy mask." - WorldCat - ISBN 9780785191605
Star-Lord & Kitty Pryde - Collects Star-Lord & Kitty Pryde #1-3, plus Generation Next #1 & Guardians of the Galaxy & X-Men: The Black Vortex Omega - WorldCat - ISBN 9780785198437
The Legendary Star-Lord, vol. 3: First Flight - Collects vol. 1 #1-5. "Before Peter Quill traversed the universe, before he was a Guardian, before he was legendary, he was … an astronaut! Well, he wanted to be, at least. But as NASA's biggest washout, it looked like the future Star-Lord was destined to stay grounded on Earth forever. Now, discover how Marvel's scoundrel of the spaceways finally journeyed out into the galaxy, with a death to avenge!" - WorldCat - ISBN 9780785196242
The Legendary Star-Lord, vol. 4: Out of Orbit - Collects vol. 1 #6-8, plus Avengers vol. 1 #28, 51 & 174. "Star-Lord and Star-Lady, sitting in a tree — no more! That's right, the engagement of the galaxy is over! But Peter Quill and Kitty Pryde still have to share a ship…and work…and friends…and…yeesh. This is going to get awkward! Fortunately, they're surrounded by caring, communicative teammates like…Drax…and Groot…and Rocket…hoo boy." - WorldCat - ISBN 9780785196259
Star-Lord: Grounded - Collects vol. 2 #1-6 & Annual #1. "Peter Quill might have been born on Earth, but he's been away a long time. And now that the Guardians of the Galaxy have gone and gotten themselves stranded on terra firma, how does a man go from soaring through the stars as the legendary Star-Lord to living with his feet planted firmly on the ground? What kind of job options are available for a guy whose résumé mostly consists of 'guarding the galaxy'? And with all the dangers he has faced and survived, could anything prepare him for…community service?!" - WorldCat - ISBN 9781302905545
Leftover Useful Information
Edit
Creative Team
Edit
Star-Lord created by Steve Englehart & Steve Gan.
Writer: Chip Zdarsky. Artist/Covers: Kris Anka.
Publishing History
Edit
First published in 2014.
Future Publication Dates
Edit
Dates subject to change at the whims of the publisher or distributor. Please see the Diamond Shipping Lists for current information.
News & Features
Edit
Ad blocker interference detected!
Wikia is a free-to-use site that makes money from advertising. We have a modified experience for viewers using ad blockers

Wikia is not accessible if you've made further modifications. Remove the custom ad blocker rule(s) and the page will load as expected.