Suicide Squad
Talk

0
1,136pages on
this wiki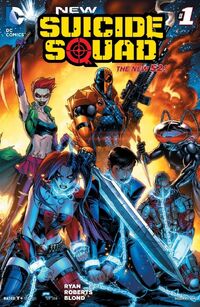 Suicide Squad is published by DC Comics. Cover price is $2.99.
Publication Dates
Edit
Last Issue
Edit
New Suicide Squad #7: 11 Feb 2015
Current Issue
Edit
New Suicide Squad #8: 11 Mar 2015
Next Issue
Edit
Convergence: Suicide Squad #1: 15 Apr 2015
Published monthly.
Characters
Edit
Main Characters
Edit
Minor Characters
Edit
Other Characters/Places/Things
Edit
Recent Storylines
Edit
New Suicide Squad #8
Edit
This is the current issue, and therefore no story information will be posted about this issue. Please check your local comic shop for copies of this issue.
New Suicide Squad #7
Edit
Past Storylines
Edit
Raise the Flag
Edit
Collections
Edit
Trade Paperbacks
Edit
Suicide Squad, vol. 1: Trial By Fire - Collects vol. 1 #1-8, plus Secret Origins #14. "When Super-Villains get caught, it's up to the government to keep them in captivity. Amanda Waller, a tough-as-nails federal agent, has other plans. She's heading up Task Force X (a.k.a. The Suicide Squad) as an ultimatum to the world's biggest villains. Join her shady, near-impossible missions in the name of democracy, or rot in jail. And one other thing: Most operatives don't make it back alive!" - WorldCat - ISBN 1401230059
Suicide Squad: The Nightshade Odyssey - Collects vol. 1 #7-12, plus Justice League International vol. 1 #13. "The Squad is trapped in Russia. And before they escape, they'll have to fight The People's Heroes. Then, Batman discovers the existence of the Suicide Squad – and he's not happy." - WorldCat - ISBN 1401232310
Suicide Squad: From the Ashes - Collects the eight-issue Raise the Flag mini-series. "How did team leader Rick Flag Jr. survive a ground-zero nuclear blast and return from the dead?" - WorldCat - ISBN 1401218660
Suicide Squad, vol. 2: Basilisk Rising - Collects vol. 3 #8-13 & 0, plus Resurrection Man #9. "As the surviving Squad members attempt to recover from their disastrous Gotham City mission, we learn a dark secret that has been festering in the team: a traitor stalks the Suicide Squad! The saboteur's mission: Assassinate Amanda Waller, expose the Squad and leave Task Force X in ruins! The Basilisk strikes!" - WorldCat - ISBN 1401238440
Suicide Squad, vol. 3: Death Is for Suckers - Collects vol. 3 #14-19. "As the Suicide Squad closes in on Basilisk leader Regulus, Deadshot and Harley discover sleeper agents in their ranks. Meanwhile, Harley must face her former boyfriend, The Joker!" - WorldCat - ISBN 1401243169
Suicide Squad, vol. 4: Discipline and Punish - Collects vol. 3 #20-23, plus Justice League of America vol. 2 #7.1 & Detective Comics vol. 2 #23.2. "After the Suicide Squad is nearly massacred, the team returns to Belle Reve to lick their wounds and bury their dead--but when they find out what's waiting for them at the prison, they'll wish they were back out in the field! Task Force X has a new leader, who will make this team of killers and thieves even deadlier than ever before." - WorldCat - ISBN 1401247016
Suicide Squad, vol. 5: Walled In - Collects vol. 3 #24-30 & Amanda Waller #1. "The Suicide Squad experiences a world full of freed villains! And now, with the Reverse Suicide Squad taking over Belle Reve, Amanda Waller and James Gordon Jr. must free a prisoner from the early days of The New 52 if they are to have any hope of surviving!" - WorldCat - ISBN 1401250122
New Suicide Squad, vol. 1: Pure Insanity - Collects New #1-8. "Once a secret to even the highest government officials, the Suicide Squad has emerged as one of its most popular programs. Its mission: to send incarcerated super villains to carry out impossible missions on foreign soil in exchange for a commuted prison sentence. If they are caught or killed, no government could link these operatives back to the U.S. government. At least, that's the theory. " - WorldCat - ISBN 1401252389 - (forthcoming, July 2015)
Suicide Squad, vol. 1: Kicked in the Teeth - Collects vol. 3 #1-7. - Kindle
Suicide Squad, vol. 3: Death Is for Suckers - Collects vol. 3 #14-19. - Kindle - comiXology
Leftover Useful Information
Edit
Creative Team
Edit
Writer: Adam Glass. Artist: Marco Rudy. Covers: Ryan Benjamin.
Publishing History
Edit
Volume 1: #1-66, 1987-1992 (#67 published in 2010)
Volume 2: #1-12, 2001-2002
Suicide Squad: Raise the Red Flag #1-6, 2007-2008 (miniseries)
Volume 3: #1-30, 2011-2014
New Suicide Squad: #1- , 2014-present
Future Publication Dates
Edit
Dates subject to change at the whims of the publisher or distributor. Please see the Diamond Shipping Lists for current information.
Convergence: Suicide Squad #1: 15 Apr 2015
Convergence: Suicide Squad #2: 13 May 2015
New Suicide Squad #9: 10 Jun 2015
New Suicide Squad, vol. 1: Pure Insanity TP: 15 Jul 2015
News & Features
Edit