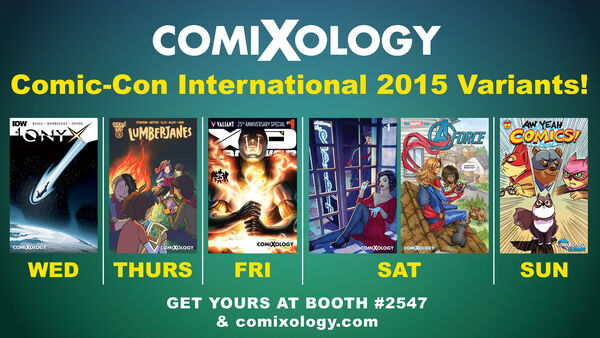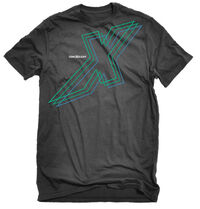 ComiXology has made some big announcements about San Diego Comic-Con! They will be hosting ten panels this year, and during every panel they are giving away a limited supply of comiXology t-shirts and Kindle Fire HD devices. These will be given out to lucky attendees. They are also helping to sponsor this year's Comic Book Legal Defense Fund party and the Eisner Award Ceremony.
The ComiXology booth, located at #2547, will be giving out a number of exclusive print variants. You can find new covers to Marvel Comics' A-Force #1, Dynamite Entertainment's The Spirit #1, BOOM! Studios' Lumberjanes #15, IDW Publishing's Onyx #1, Valiant Entertainment's X-O Manowar: Valiant 25th Anniversary Special #1 and a special comiXology Submit version of Aw Yeah Comics! #1. Those not attending the show can go to [comixology.com] to purchase a special limited edition digital copy of that comic with the variant cover available the same day as the signing until the end of Comic-Con International.
In addition, fifty lucky fans coming by the booth Saturday at noon, will have a chance to get a free copy of Philip K. Dick's Man in the High Castle novel with an exclusive new cover by comic creator Ted Naifeh during a signing by actor Luke Kleintank from the Amazon Studios' Man in the High Castle TV show. Bruce Timm will also be signing at the comiXology booth Saturday to promote DC Entertainment's Justice League: Gods & Monsters.
---
---
Ad blocker interference detected!
Wikia is a free-to-use site that makes money from advertising. We have a modified experience for viewers using ad blockers

Wikia is not accessible if you've made further modifications. Remove the custom ad blocker rule(s) and the page will load as expected.