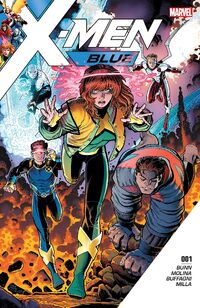 X-Men Blue is published by Marvel Comics. Current price per issue is $3.99.
Publication Dates
Edit
Last Issues
Edit
X-Men Blue #18: 27 Dec 2017
Current Issue
Edit
X-Men Blue #19: 10 Jan 2018
Next Issue
Edit
X-Men Blue #20: 24 Jan 2018
Twice-monthly series.
Characters
Edit
Main Characters
Edit
Minor Characters
Edit
Other Characters/Places/Things
Edit
Recent Storylines
Edit
X-Men Blue #19
Edit
This is the current issue, and therefore no story information will be posted about this issue. Please check your local comic shop for copies of this issue.
X-Men Blue #18
Edit
Past Storylines
Edit
Collections
Edit
Trade Paperbacks
Edit
X-Men Blue, vol. 1: Strangest - Collects #1-6. "Like a bolt from the blue, the original five X-Men reunite — like never before! And this time, Jean Grey is in charge! Cyclops, Iceman, Angel and Beast follow her into action, bringing mutant criminals to justice and restoring a heroic sheen to their team. But how well can they do that when their new mentor is their one-time archenemy? That's right — Magneto has joined the original X-Men! And not everyone can put old rivalries aside. The X-Men encounter the new Marauders, Mister Sinister and the delights of Madripoor — but with tensions rising, can the team come together to be a cohesive force for good? Or will ulterior motives and personal quests derail the entire enterprise? At the end of the day, who can be trusted?" - WorldCat - ISBN 9781302907280
X-Men Blue, vol. 2 - Collects #7-12. "The X-Men are caught up in Hydra's Secret Empire! But what does the terrifying new landscape of the Marvel Universe mean for mutantkind? How will Jean, Cyclops, Beast, Angel and Iceman make their way in a world dominated by Hydra? What does Magneto have up his sleeve? And where exactly does Emma Frost fit into this new world order?" - WorldCat - ISBN 9781302907297
X-Men Gold, vol. 3: Mojo Worldwide - Collects #13-15, plus X-Men Gold #13-15. "Mojoverse has invaded! And it's going to take the combined might of two X-MEN teams to fight back! When sections of Manhattan are attacked byMojo and his terrible minions it's up to X-Men Gold to save the day...alongside the young heroes of X-Men Blue, of course! But when threats from their past are thrown at them, how will these teams react? As Sentinels and Brood and bad memories attack at every opportunity, Will Kitty and Jean and their teams be able to save Manhattan?" - WorldCat - ISBN 9781302910891 - (forthcoming, January 2018)
X-Men Blue, vol. 3: Cross-Time Capers - Collects #16-20. "The X-Men travel through Magneto's time portal to save the past! But something is wrong with the portal, which sends the team careening through time and space. Will they be able to figure out a way to get back to the present?" - WorldCat - ISBN 9781302909789 - (forthcoming, March 2018)
Leftover Useful Information
Edit
Creative Team
Edit
Writer: Cullen Bunn. Artist: Jorge Molina. Covers: Arthur Adams.
Publishing History
Edit
First published in 2017.
Future Publication Dates
Edit
Dates subject to change at the whims of the publisher or distributor. Please see the Diamond Shipping Lists for current information.
X-Men Blue #20: 24 Jan 2018
X-Men Blue Annual #1: 24 Jan 2018
X-Men Blue #21: 14 Feb 2018
X-Men Blue #22: 28 Feb 2018
X-Men Blue #23: 14 Mar 2018
X-Men Blue #24: 28 Mar 2018
News & Features
Edit
Ad blocker interference detected!
Wikia is a free-to-use site that makes money from advertising. We have a modified experience for viewers using ad blockers

Wikia is not accessible if you've made further modifications. Remove the custom ad blocker rule(s) and the page will load as expected.